2023 White Squirrel Weekend to Kick Off in Downtown Brevard May 26-28
Attendees will enjoy live music, local eats, and arts at this fun street festival produced by Heart of Brevard.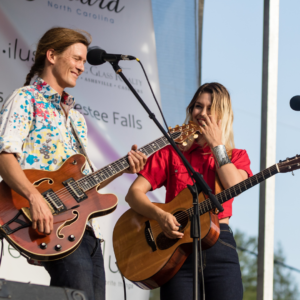 [Brevard, NC, April 25, 2023] In honor of a very special wildlife critter, the white squirrel, Heart of Brevard (HOB) is excited to bring White Squirrel Weekend (WSW), presented by DD Bullwinkel's Outdoors, back to downtown for Memorial Day weekend.
Held May 26-28, 2023, this street festival will start in the heart of downtown beginning on Friday evening and run through Sunday afternoon. The weekend event will feature live music on the main stage, over 15 delicious food vendors, and a beer garden featuring local craft beer and wine. There will also be a selection of over 75 craft, artisan, and nonprofit vendors.
"Get ready for a weekend you won't forget! WSW is back and ready to bring the streets of downtown Brevard to life with unforgettable music, delicious food, and nonstop fun," said Nicole Bentley, executive director of HOB. "Our signature event is the perfect opportunity to gather with friends and family and immerse yourself in the vibrant energy of our community."
During WSW, visitors are encouraged to peruse various retail and food vendors. HOB also welcomes attendees to browse the galleries, studios, and other downtown businesses while enjoying live music on the E. Main Street Stage and at other downtown locales. View the event schedule at brevardnc.org/whitesquirrel.
"This weekend is always a great kick-off to summer fun," shared Dee Dee Perkins, owner of D.D. Bullwinkel's Outdoors. "Music, events, and getting people outside are what Brevard is all about. Sponsoring WSW is our way of giving back to our local community, who we credit for our success and the success of downtown."
Music Lineup
Friday, May 26 (on the Main Stage)
Blending the characteristic interplay of bluegrass instrumentation and harmonies with strong original material and exuberant energy, Fireside Collective has drawn on folk, blues, funk, and a wide variety of bluegrass sounds to create a distinctive body of work that's all their own.
Mixing elements of classic cosmic country, raucous rock'n'roll, fresh humor, and heartaches, The Pink Stonesare authoring a new chapter in the annals of Cosmic American Music.
Saturday, May 27 (on the Main Stage)
Jupiter Coyote has been called the new twist in southern rock, and they deliver it with a relaxed, worldly view. Their sound has been labeled "Mountain Rock" — a mixture of Southern Appalachian boogie, bluegrass-infused, and funk-rock.
A voice that harkens back to the Appalachian roots from which she was born and on the edges of contemporary country, folk, and old-time, Nikki Talley & Jason Sharp leave their audiences stomping and clapping for more.
Sounds of soul and blues, rooted in country, and touched with funk and folksy reflections, John Trufant's simply good, honest music.
Sunday, May 28 (at various locations)
See the full schedule and live music line-up at brevardnc.org/2023lineup.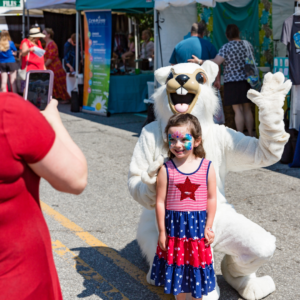 Volunteers
HOB relies on volunteer support to help produce WSW. Better yet, volunteers receive special perks for each shift, such as an event t-shirt and perks package, in addition to an end-of-year volunteer appreciation party.
For those looking to get involved, meet new people, help answer questions, and lend a helping hand, fill out our volunteer interest form at brevardnc.org/volunteer.
Sponsors
WSW would not be possible without the support of local sponsors and partners:
The City of Brevard, Transylvania County Tourism Development Authority, Transylvania County, Duke Energy Foundation, D.D. Bullwinkel's Outdoors, Rocky's Grill and Soda Shop, Rocky's Corner Market, Comporium, Bartlett Tree Experts, The Lucy Clark Gallery and Studio, PLATT, PLATT Home, Looking Glass Realty, Brevard Insurance, Oskar Blues Brewery, 3oak Handcrafted, Southern Quality Company, Territory, Kilwins Brevard, Joe Chapman Roofing, Renewal by Anderson, United Community Bank, Poplar and Ash, The Children's Emporium of Transylvania County, Blue Moon Metal Prints, Starfangled Press, Bath Fitter, The Transylvania Times, Grand Olde Station, Connestee Falls Realty, Bath Fitter, Broad Street Wines, WSQL, The Laurel of Asheville, Brown Bean Coffee Roasters, and First Citizens Bank.
Are you interested in becoming a sponsor? Reach out to [email protected]
Heart of Brevard is a nonprofit organization whose purpose is to maintain a vital downtown. Revitalization is done through design, economic improvement, promotion, and organization. Heart of Brevard has a professional staff and is guided by a board of directors comprised of downtown business owners and civic leaders. It is funded by a balanced mix of public and private investment and is a program of the nonprofit National Main Street Center, a subsidiary of the National Trust for Historic Preservation.
###