Old Time Street Dances Expand their Reach throughout Transylvania County: Embracing Tradition and Celebrating Togetherness
Brevard and Transylvania County, known for rich cultural heritage and vibrant community spirit, will host a series of Old Time Street Dances beginning June 13th and running through the fall. Residents and visitors alike are invited to join in this decades long tradition as the county comes alive with the joyous sounds of music and family-friendly dancing. Dances will take place in Rosman, Downtown Brevard and Cedar Mountain, providing a variety of locations for residents from all corners of the county to gather.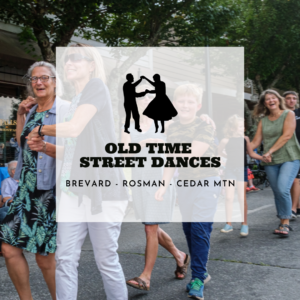 Dating back to the early 1940s street dances have played a vital role in the history of Transylvania County, serving as a cherished tradition that unites the community. The dances are a link to the region's Appalachian influence, drawing inspiration from traditional square dances and clogging, infused with lively Appalachian folk music. Over time, the popularity of old-time street dances in Transylvania County has fluctuated, with some periods seeing a decline in their frequency and attendance. 
Heart of Brevard organized Old Times Street Dances in downtown for several years and sought out creative community partnerships to keep the tradition alive and revitalize their cultural heritage. 
"Old Time Street Dances have a rich connection to our cultural legacy and pay homage to our musical heritage," said Nicole Bentley, Executive Director of Heart of Brevard. "Through collaborative efforts with local businesses, organizations, and dedicated individuals, we have successfully kept the spirit of Old Time Street Dances alive, ensuring that this cherished tradition continues to bring people together, fostering a sense of unity and celebration."" Heart of Brevard has scheduled three Old Time Street Dances in downtown Brevard on August 1, September 12, and October 28.
Whitewater Bluegrass Company will return as the host band this year to provide live music and calling. For over 35 years, Whitewater Bluegrass Company has captivated audiences throughout the Southeast with their blend of bluegrass music, country ballads, mountain swing and down-home tunes. 
"Headwaters Outfitters is thrilled to announce the debut of Whitewater Bluegrass Company on the Upper French Broad River," said Jessica Whitmire, Director of Operations at Headwaters Outfitters. "While it's their first time here, they are certainly familiar with dancing and bluegrass along the riverside, having played along the banks of rivers like the Nantahala and other enchanting locations. To kickoff Riverfest week, join us at Headwaters on Tuesday, June 13th, for FREE country dancing by the river!"" 
"These county-wide street dances serve as a reminder of the importance of community and the power of shared traditions. It is an opportunity to connect with neighbors, make new friends, and celebrate the vibrant spirit that defines Transylvania County", shared Sarah Dearbaugh co-owner of Cedar Mountain Moonshine.
Old Time Street Dances are produced in partnership with Heart of Brevard, Transylvania County Tourism, Think Local Transylvania, the City of Brevard, Headwaters Outfitters and Cedar Mountain Moonshine. 
Don't miss out on an opportunity to experience the magic of Transylvania County's old-time street dances. Old Time Street Dances are free and open to the public. For more information about the Old Time Street Dances and a schedule of events and other upcoming events, follow Old Time Street Dances on Facebook and subscribe to the Heart of Brevard newsletter here.