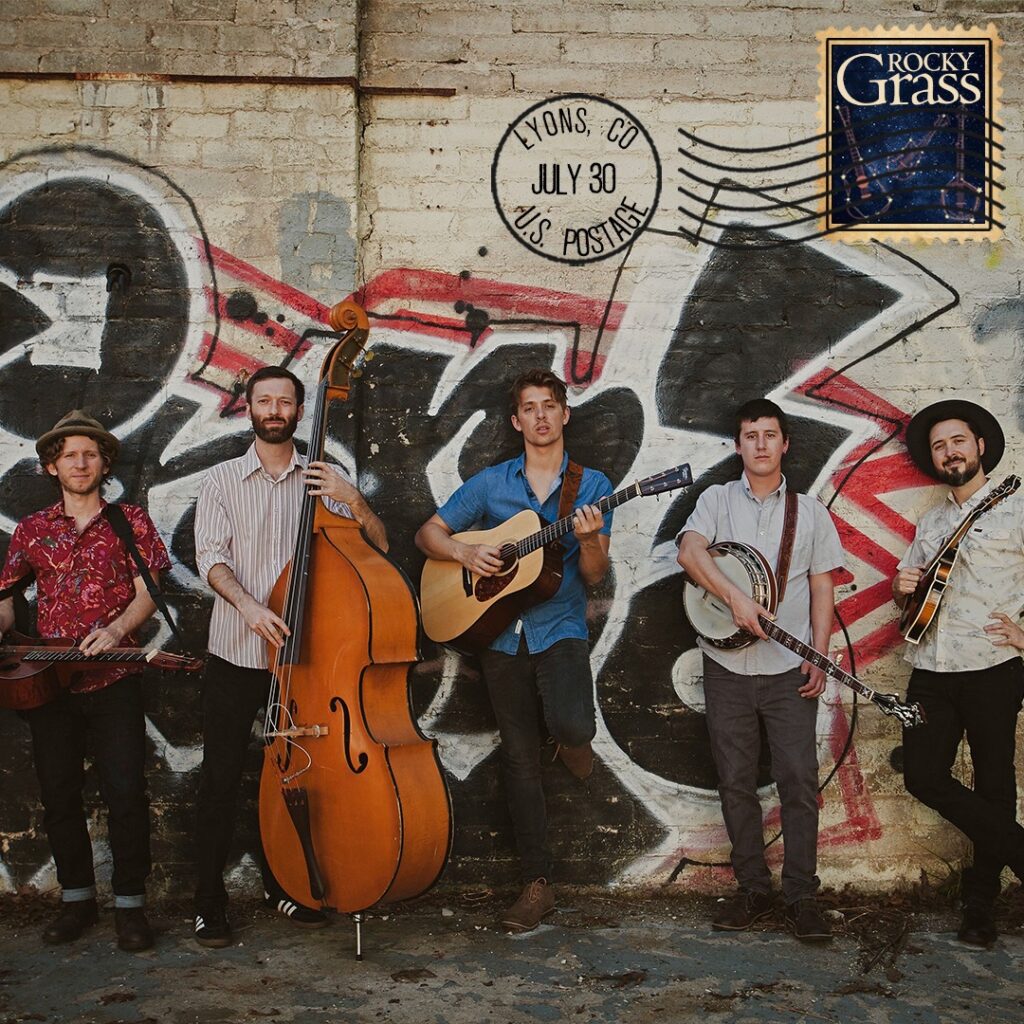 HEADLINER
A quintet that cheerfully disregards every kind of one-dimensional label that might be attached to their music, Fireside Collective has been on a roll since emerging from the fertile roots music scene of Asheville, North Carolina. In quick order, the progressive bluegrass group released its debut album, won the 2016 Band Contest at MerleFest, earned an International Bluegrass Music Association Momentum Band of the Year nomination and embarked on an ambitious touring schedule that's earned an enthusiastic reception from traditional bluegrass to wide-ranging, eclectic music festival audiences alike.
Blending the characteristic interplay of bluegrass instrumentation and harmonies with strong original material and exuberant energy, Fireside Collective has drawn on folk, blues, funk and a wide variety of bluegrass sounds to create a distinctive body of work that's all their own.
Each member—Joe Cicero (guitar); Alex Genova (banjo); Jesse Iaquinto (mandolin); Tommy Maher (resonator guitar) and Carson White (upright bass)— brings a strong, original voice to his instrument, and the unique contributions of different lead and harmony vocalists complement the variety in the group's many original songs. "Depending on where you come from and your experience with folk music, you may think we're very traditional, or on the other hand, consider us a progressive act," says Iaquinto. "We appreciate both ends of the spectrum and may lie on a different end on any given night." But whether they're bringing the classic sound of bluegrass or exploring new musical territory, Fireside Collective delivers a fresh, energetic approach and a blast of enthusiastic creativity that's electrifying audiences across the country.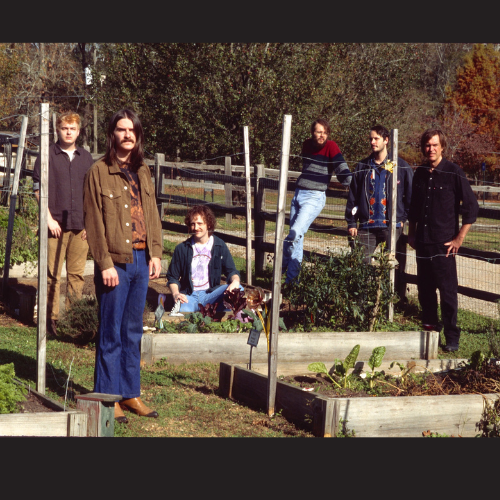 The Pink Stones deliver a full serving of Peach State picked country-rock from Athens, Georgia with the release of their debut album, Introducing… The Pink Stones , via the New West Records imprint Normaltown Records. Mixing elements of classic cosmic country, raucous rock'n'roll and fresh humor and heartaches, The Pink Stones are authoring a new chapter in the annals of Cosmic American Music.
The journey to the Pink Stones debut album began in 2015, when freshman college-student and then punk rocker Hunter Pinkston bought a special single by one of his favorite bands. "It was the song 'Brass Buttons,' Pinkston says. "One side was The Lemonheads and the other was Gram Parsons' original version. I bought it because I was a Lemonheads fan, but I flipped it over and that was the one of the first times I'd heard Gram Parsons. I was like, 'Oh shit! I didn't know I liked country until right now.'"
Inspired by his discovery, Pinkston not only began tracking down and listening to Parsons' catalog, but took the well-travel music fan path of seeking out similar artists and influences. It was actually a landscape he'd seen before but paid little attention to.
"When I was a kid my mom liked country music but my dad was totally a rocker," Pinkston says. "They would constantly be switching the radio. I was definitely with my dad and had discounted country forever. Then it caught up with me and I became pretty much obsessed with it."
A native of Albany, Georgia, Pinkston grew up in a family of music fans with two sisters who played guitar and a father who lived the rock'n'roll life as a young man. "Dad was a drummer in some local, South Georgia bands during the 70s. He opened for the Allman Brothers and others and continued to be a big fan after he quit playing." Pinkston began forming his own bands in high school and gravitated toward punk and hardcore until his B-side epiphany. "When I started revisiting what I had heard as a kid; that's when I started writing my own songs. I really started listening to Neil Young which was music I had heard as a kid, but didn't really think twice about it at the time."
Pinkston's exploration of musical styles and maturity as a songwriter accelerated in 2016 when he transferred to the University of Georgia Music Business program and found himself immersed in the vital and diverse Athens music scene.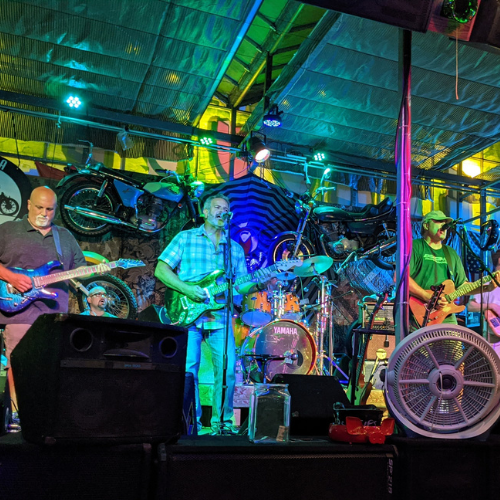 HEADLINER
In the course of their 33 year history, Jupiter Coyote has played over five thousand shows, traveled everywhere and done just about everything a touring band can do. The innovative group has independently sold close to a million CDs, tens of thousands of downloads, and who knows how many bootlegs they cut loose to fans for free. JC is a brand name, and a pioneering cornerstone in the jam band scene. They have been called the new twist in southern rock and they deliver it with a relaxed, worldly view. Their sound has been labeled "Mountain Rock" — a mixture of Southern Appalachian boogie, bluegrass-infused, funk-rock.
JC plays it the way they feel it — with little regard as to where they fall between the cracks of what is considered trendy and fashionable. A band prolific in its writing, skilled in its musicianship and congenial in its nature, they remain the prototype of the truly independent band. They handle all business in-house and own their own record label, which is distributed internationally through Red Eye Worldwide.
The group traces its roots to Brevard, N.C., where childhood friends Matthew Mayes (guitar, guijo, vocals) and John Felty (vocals, guitars) decided in 1988 to pursue a career in music. The duo headed to Macon, Ga., where they joined forces with drummer Gene Bass and bassist Sanders Brightwell. Steve Trismen (vocals, fiddle) joined the fold in 1999. A native of Boulder, Colo., Trismen's playing melded neatly into the band's sound and gave Coyote a new on-stage dynamic. Noel Felty took over for Bass on drums in 2001. Most recently, long-time JC sidekick John Meyer was added on lead guitar. Meyer is also the person who came up with the name Jupiter Coyote back when the band was first starting in Macon, Ga. There is no band that really sounds like Jupiter Coyote. They have a guijo (banjo neck, Stratocaster body), an incredible fiddle player and two fantastic slide guitar players. On top of that, the band is currently touring with two drummers; Noel Felty and Gene Bass.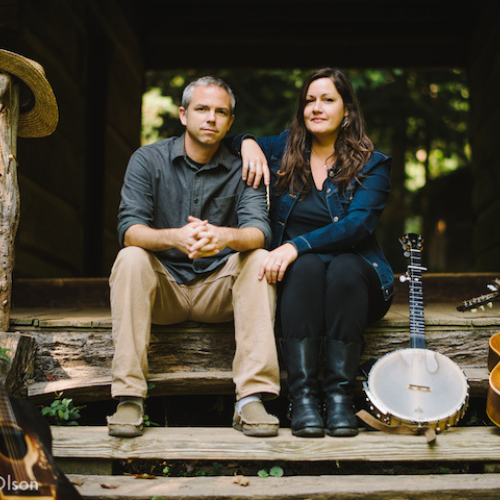 Hardworking, energetic, mountain girl with a big voice…these could all describe Nikki Talley. Raised in Ruffin, North Carolina and hailing from Asheville, it's only fitting that her music is as eclectic as the state that boasts the mountains and the sea. Trying to pin down Nikki's style, critics and reviewers alike have compared her to Patty Loveless and Gillian Welch, but to leave the comparisons there would be doing a disservice to her fiery stage performance, hauntingly seductive and raw gritty lyrics, lifted by a voice that harkens back to the Appalachian roots from which she was born, and shores up on the edges of contemporary country, folk and old time that has her audiences stomping and clapping for more.
Along with her guitar & clawhammer style banjo, Nikki Talley's musical partner & husband Jason Sharp adds resonant lush guitar tones as well as harmonies to round out this duo's sound.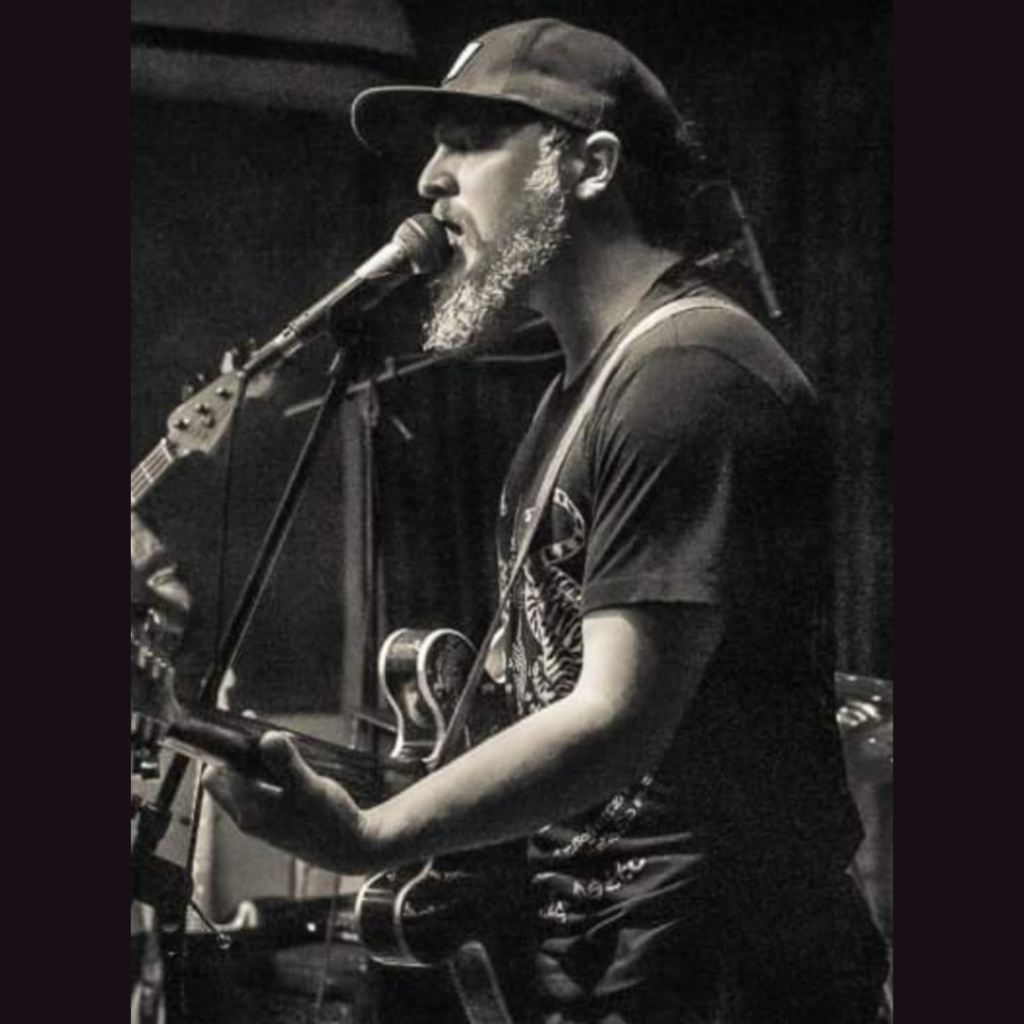 His feet are sunk deep in the Bayous of South Louisiana and his head is lost in the Mountains of Appalachia. Singer and
writer John Trufant plays tribute to his roots and all that shapes him. Touches of soul and blues, but country roots through and through. From funky-feel good to folky reflections, this is simply: Good. Honest. Music.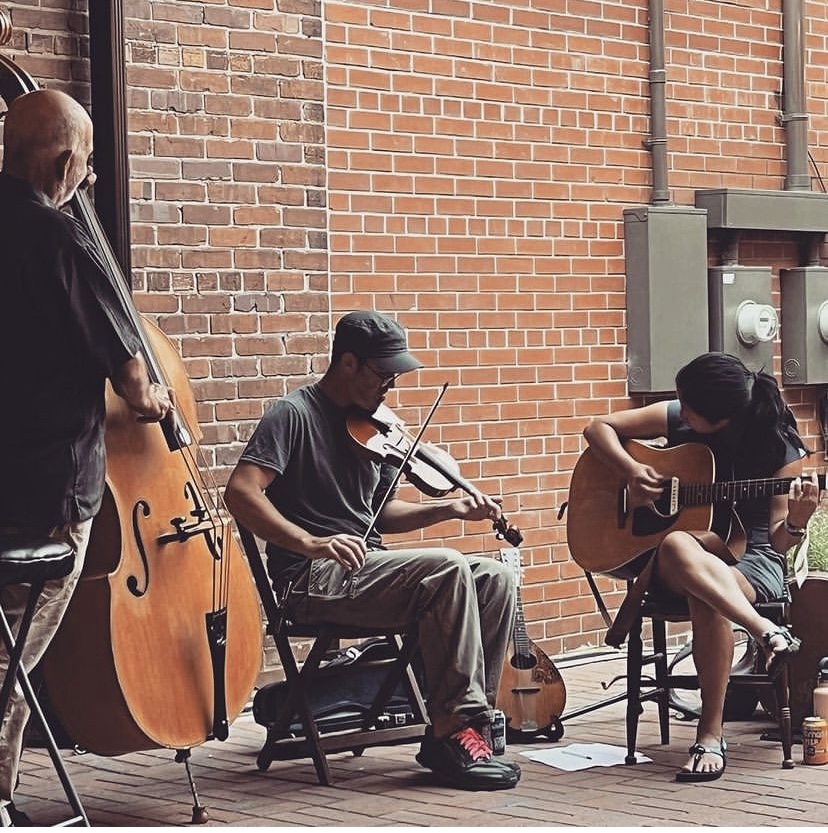 A high energy ensemble who love to entertain, focusing mostly on American traditional fiddle tunes.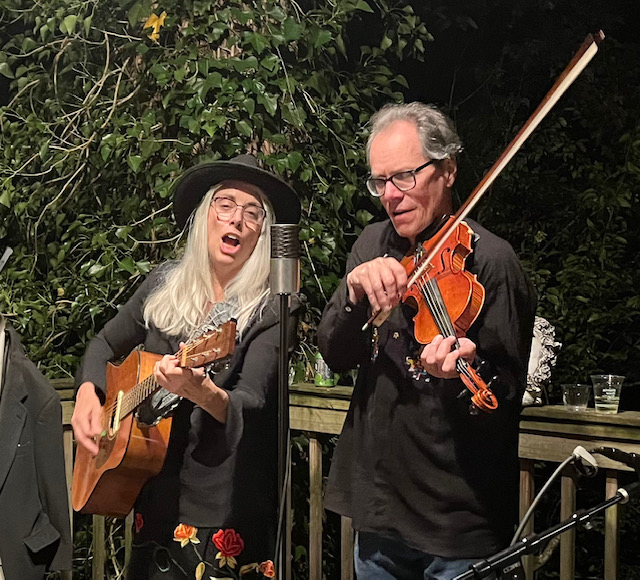 The recipe for the Harrows – Take a wine glass full of Joan Baez, mix in a pint of Tom Waits, add two shots of Howlin Wolf, and take a generous pull from a jug of Doc Watson. Shake it. Salt the rim of a ball jar with Levon Helm and Texas Shorty. Serve it over ice made from Muddy Waters. Garnish with a sprig of Mavis Staples. Best enjoyed in the Taj Mahal. The Harrows are Hazel Ketchum and Bob Culver and a handful of local ne'er-do-wells and rounders. They got fiddles, guitars, mandolins, banjos, accordions and vocal cords, and they're not afraid to use them.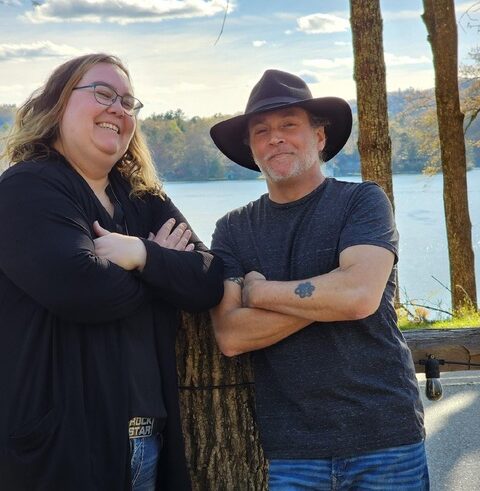 Keturah Allgood was born and raised in the mountains of Western North Carolina. She is a Soulful Americana artist who draws on her myriad of life experiences for inspiration. While traversing the dusty back roads and often forgotten places, she gently taps into the heart and soul of our shared existence. Keturah believes that music has the power to bring all of us together and reminds us that love, kindness and compassion always shine through the darkness of these often trying times.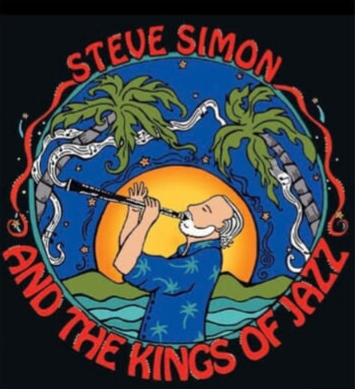 Born and raised on the North Shore of Long Island, renowned jazz clarinetist Steve Simon continues to follow his passion for performing live all over the world while at the same time dedicating himself to supporting the genre of jazz and jazz musicians as the co-producer of the Charleston Jazz Festival, the producer of the Jazz in the Joint concert series, the producer of the Jazz in the Moonlight concert series, a volunteer concert producer for Armed Forces Entertainment and our State Department, the former Vice-Chairman of the Board of Charleston Jazz and a former commissioner on the City of Charleston's Commission on the Arts.
In his "spare" time, Steve has also founded and built four national and international businesses in both the automotive and insurance financial services industries.
For over 25 years Steve Simon and his bands, The Kings of Jazz and The Jazz Islanders, have entertained weekly standing room only audiences in downtown Charleston South Carolina and on St. John in the U.S. Virgin Islands. Each and every week Steve's bands have attracted some of the best jazz musicians from around the country in what has become his signature jazz show honoring the Great American Song Book.
This year Steve and his artist wife Lynn have made Brevard North Carolina their new home and The Kings of Jazz are about to start inspiring audiences in and around Brevard with their funky, soulful, exhilarating and amazingly charismatic shows.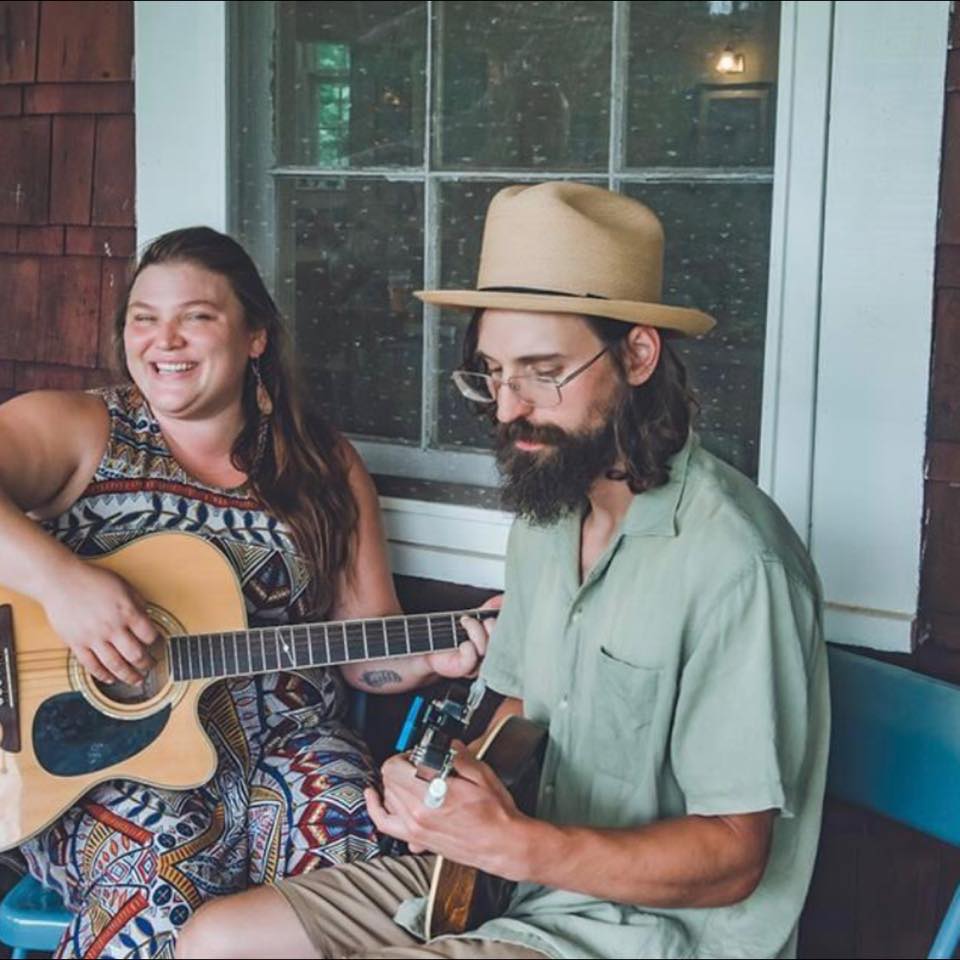 Jennifer Rhea Linville and Owen Grooms play heartwarming original and traditional songs on guitar, banjo, mandolin and fiddle. Jenn grew up here in Transylvania County and has played music throughout her life's journey with her family and friends, including the bands Chrysalis and The Woven. Owen plays with Pretty Little Goat and other regional bands, and teaches traditional music through the Transylvania JAM Program and Mountain School of Strings. Together, they offer songs sung in sweet harmony that bring ease to your soul and a smile to your face.